I don't know if I'll be able to pick up spore anytime soon, as I've got limited funds and my heart has been set on Fallout 3 (which comes out next month) for what we all know has been almost a year now. I do really like your description of spore, and the fact that you were able to lure that beast into your rivals village speaks very highly to me about the attention to detail the game developers really put into the game. So I'll probably give it a whirl once the price goes down and the copy protection gets loosened, as it inevitable does when publishers try to treat their customers like criminals.
Anyways...moving on to the long time object of my strategy game affections...Supreme Commander...
Yes Scott...it does exist...and let me reiterate...it is a strategy game.
What I mean by this is that individual unit tactics are at a minimum. There is no zealot dancing, no Warcraft hero units, and while the various tech level vaguely resemble the ages from Age of Empires you'll see no bow and arrows here. On the contrary, if you actually put the units into perspective, the smallest unit, a light assault mech, is about a head taller than the games tallest tree. Units in SupCom don't come at you with a battering ram, they come swinging at you with a Great Sequoia.
The original game has three factions, and the expansion (which is a must have, more on that later) adds another.
The original are the United Earth Federation (UEF), Cybran Nation, and Aeon Illuminate. The expansion race is the alien Seraphim.
The UEF is my personal favorite. Story wise their goal is to unify the galaxy as Earth was once the dominant governing body. While at first glance the factions are mirror images with different unit models that's not entirely accurate. You'll notice subtle differences that in the hands of a competent player turn into huge ones.
The UEF thing is knocking the door down...and they have tanks...tanks...and biggers tanks to accomplish this feat. Better yet however they have the means to get those tanks into position as they have the most effective air transport in the game. With the UEF if you're traveling across the map on foot then something is seriously wrong and you're going to lose.
Experimental units are the guys you go "well piss" when you see them. At first glance they are gimmicks, but each has it's role. What they are really meant to be is the tip of the spear when assaulting a heavily fortified base. The UEF has a mobile factory with long range cannons, an orbital weapons satellite, an aircraft carrier submarine (it can hold like...200 planes...) and a long range artillery piece. The mobile factory, called a Fatboy has cemented itself as my favorite unit. As it can pound a base from afar while pumping out any land unit you choose.
The Cybrans in the game are people implanted with cybernetic components seeking freedom. (I'm really dumbing down race descriptions here...) They forgo most of the heavy weaponry in favor of versatility and speed. Their tier one assault bot maybe the best tier one unit in the game. It is a fast four legged walker that deals decent damage. It can outrun any non-scout tier one unit...plus it can repair and help build. The options are limitless....
Their experiments break their persona a little bit...They Cybrans have not one but two giant walkers of doom...both are meant to knock down the front door...at the front door...and survive the ensuing chaos. The lighter one (and I use lighter loosely) is an incredibly unit. Imagine a six legged monstrosity that can fire a steady beam of death...plus has laser turrets and flak guns....much death ensues.
]\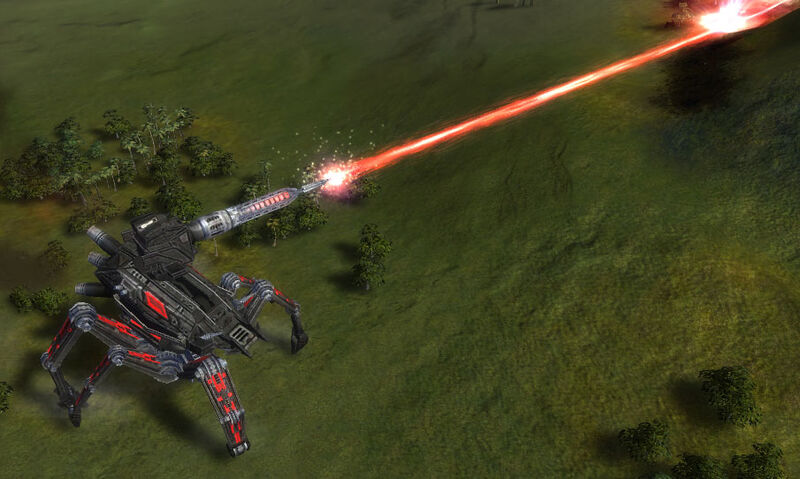 This is the Cybran Monkeylord...and it's not monkeying around...
The other experiments include the megalith...which is pretty much a variation of the UEF fatboy with a different build mechanic and a morepowerful albiet shorter range offensive capability. they also have rapid fire long range artillery which isn't quite as good as it sounds.
The Aeon are the religious zealots...seeking to spread their views across the galaxy...so they want to kill everybody...I haven't played a whole lot with the Aeon...as they are not my cup of tea. I like the versatility of the cybrans the depth of the UEF. They Aeon have an arsenal full of niche units that can excel when put in the right situation but can get trashed under the wrong circumstance.
They have and giant walking...thing...as an experimental. A submersible battleship, and giant disk like flying aircraft carrier, and a device that basically gives you unlimited resources as their experimentals.
The seraphim quite honestly are vastly inferior to the other races. I've run into one seraphim player online and I smashed him without a second thought. They possess some powerful units but know subtlety. They know they are coming in the front door with a pile, but you know it to. They are a one trick pony and while they are exceptional at that one trick it's simply not enough in this game.
Their experimentals embody this ideal. They have a giant bomber...another two legged walker that might be the hardest thing to actually bring down in the game, and giant nuclear missile launcher of doom, plus a giant laser that fill much the same role.
The races however are not what make this game. It's the strategy and the interface and what it allows you to do. You can control five hundred individual units in 1/3 the clicks it takes to command a group of twenty zealots in starcraft.
Does this make SupCom an easier game?
Hell no...
One has to manage their complex economy and the battle simultaneously for the duration of the game. Even against an AI that's not entirely helpless (Just mostly).
Speaking of the economy...it works like this.
There are two resources. Energy and mass. As opposed to the flat collection of...every other RTS ever SupCom uses a steady stream of income-per-second. So one tier one metal extractor will net you 2.0 mass per second. balancing is made easy as expenditures are listed is both a flat cost, and the amound of mass per second needed to create. All that was said above goes for energy except one does not have to fine specific spots to harvest energy. Power generators can be built virtually anywhere, and while at first glance the resource system seems simplistic it's really far from. Things get hectic when managing the resources to forty-five factoris. The loss of one mass deposit can throw your economy into a tailspin if you're not paying attention.
The battle are fast and furious. The rock paper scissors mechanics found in most RTS games are nowhere to be found. Rather supcom relies and common sense and numbers. What I mean by this is that there is no unit that inexplicably is going to knock down eighty five of an opposing unit at roughly the same tier (zealot vs zergling here) And while I'm not knocking either game for their method it's kind of a breath of fresh air to be free of those shackles.
Maco is the name of the game in supcom. you can automate everything from having premade building templates available to looping build ques indefinitly. You could have a build que of 5 light tank, 2 artiller, 1 anti air, press the loop button and they will produce continually in that order. If you want that produced in all your factories. Just select them all, click the assist command, and then on the catory with the initial quee and those factories will automatically construct whatever the first factory is. An entire infrastructure and war machine can be set up in 10-15 clicks.
Air transports aren't even a hassle. With the ferry command the is a load icon on the ground and then a destination. Tell a unit to go to the load icon and they automatically board and depart. Better yet, set your factory's waypoint to the laod icon, then you'll have a steady stream of toops where need then, and fast.( air transports can also carry dozens of units at a time).
Air combat is aided by a realistic physics system. Dogfights are spectacular to watch and the inexplicable hovering of most game is nowhere to be found unless you've built an aircraft specifically designed to hover and pelt ground targets from above.
As far as the inner working goes I know that the game is split into planes. There is an underwater plane, a surface plane...and at least five seperate planes in the air that aircraft can freely traverse. I know that spy planes travel higher making them harder for AA to shoot down.
Visually the game is stunning. and the sharp looking units benefit from a wonderful set of landscapes that really immerse you in the local and make it feel like more than just a game board.
Graphics are good...and it's a pic of my favorite unit
Sound is also fantastic...and my house has shaken from my commander exploding before...which was cool...but probably not a good thing at the time.
Unfortunately in a game where scope and scale are everything there has to be problems.
The game is a resource hog. My machine, a dual core 3 ghz processor with 4 GB of ram and a 256 mb graphics card cries when too much is happening at once. This isn't helped by a memory leak with the AI that the developer has inexplicably left untouched for two years now. The online community isn't' that extensive and doesn't seem all that welcoming to newcomers from what I've seen but there are plenty of games online to be played as that is where it really shines.
Where both the main game and the expansion fail however is in the single player. In short...it's just awful. The set-up in each mission has an objective, and when you meet it the map expands, then a new objective, rinse and repeat for two hour missions. What results is that the player never really gets rewarded for accomplishing an objective, it's more of a grind then fun at that point. Plus the objective always turns into what would amount to a normal skirmish anyways. The story is okay, but GPG (the developer) really dropped the ball with three races that really had the depth to have an interesting storyline. If they cared half as much as the people over at blizzard did they'd have a compelling story to go along with their wonder war simulation.
Because in the end that's what it is. A war simulation on the grandest scale a fully real time game can achieve. The only comparable game is SupCom's spiritualy predecessor Total Annihilation but even it cannot match SupCom sheer scale. Commanding 250 units is the tip of the iceberg in SupCom where it is the unit
limit
in TA.
All in all...SupCom from a sheer game play standpoint is all I could want in an RTS. It reward though and planning more than a quick mouse and has the scale to allow epic battles that games like warcraft III could not possibly have hoped to achieve.
Scott, I think that you could like this game. I know you've disliked most RTS games in the past but this one is different somehow. When you build that giant assault bot, or completed that tenth battleship to complete your naval armada you know that it's going to last a bit and it's not going to get whacked by six scourge. So us yeah people give it a go...I'd really like to some people to play online with...